Pharmaceutical Network January 25
Apixaban
(Apixaban, trade name Eliquis) is an oral selective activation of factor Xa inhibitors. On April 26, 2007, BMS teamed up with Pfizer to announce the joint development of a new oral anticoagulant, apixaban, as a replacement for warfarin.
On May 20, 2011, Apixaban was approved for listing in the European Union; on December 28, 2012, it was approved by the FDA; in January 2013, it entered China, and in 2017, it entered a new medical insurance catalogue for hip or knee. Adult patients undergoing elective replacement surgery to prevent venous thromboembolic events.
Apixaban is the third newest oral anticoagulant listed after Boehringer Ingelheim's dabigatran and Bayer's rivaroxaban.
According to the Comprehensive Drug Database (PDB), the globally marketed oral anticoagulants are mainly found in the genus Gray and Shaban. Since 2014, the market share of clopidogrel has continued to decline, while the Shaban class has gradually dominated.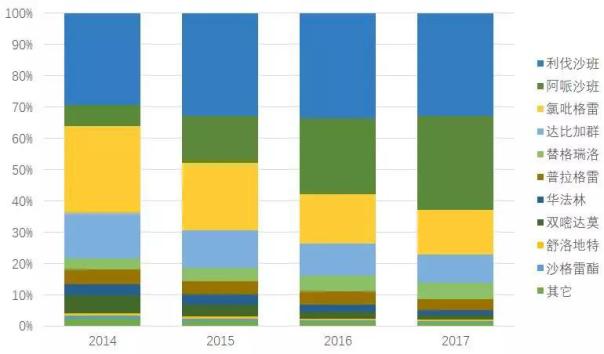 Source: Drug Comprehensive Database (PDB)
In addition, Apixaban, developed in collaboration with Pfizer and BMS, is a leader in the market for vascular thinners to prevent stroke because of its "Best-in-Class" clinical trial results, which have a significant effect in reducing the risk of major bleeding. Safety and effectiveness are superior to similar drugs.
Compared with enoxaparin, the
standard
treatment for venous thromboembolism after orthopedic surgery, rivaroxaban and apixaban have advantages in the RECORD test and the ADVANCE test, respectively. Overall, the efficacy of rivaroxaban appeared to be slightly better, but the bleeding was more severe than apixaban.
BMS applied for a compound of apixaban in 2003. Its international publication number is WO2003/049681. At present, the number of patents for apixaban has exceeded 100, and the compound patents in China will be on September 17, 2022. Expired (CN1578660A).
Although NMPA approved the first imitation of Hausen Apixaban, it was only because Hausen BE had a slightly faster progress, and it did not involve challenging the original patent.
In April 2017, BMS and Pfizer jointly filed more than a dozen patent infringement lawsuits, including China's Dongyang Pharmaceutical and Huahai Pharmaceutical. In the lawsuit, BMS and Pfizer claimed to have two patents, namely the compound patent (US6967208) and the preparation method and dosage (US9326945).
Now the case is still under trial. If the patent is successfully challenged or obtained by ANDA, it can be given priority review in accordance with domestic policies, which have been listed in Europe and the United States and applied for domestic imitation.
In China, on June 17, 2012, Nanjing Runnuo filed a patent invalidation request with the National Patent Reexamination Board for the invention patent of Apixaban Patent No. 02821537.0. The first-instance judgment and the review decision all confirmed that the patent was invalid. Subsequently, BMS appealed to the Beijing High Court, and finally the High Court made a ruling, and the judgment of the first instance and the review was revoked. The protection of the patent for apixaban continued. It can be seen that the patent of Apixaban in China is still very solid, and it is very difficult to make patent challenges in China.
The patent protection of Apixaban will expire on September 17, 2022. Subject to this, if there is no patent-transition successful transition event, there will be no generic drug products of Apixaban in China before this time. sale, and is currently behind schedule domestic
enterprises
will have enough time to complete their respective clinical trials BE, then wait for the market opening.
In other words, if Dongyang Sun and Huahai are successful in the US market, they also have time to get approved for listing in China before the expiration of domestic patents.
However, it is not that Howson is now passive. Xiao Bian believes that patent protection for generic drugs is also promising. In terms of patent layout, generic pharmaceutical companies can lay out peripheral technologies such as new crystal patents, pharmaceutical preparation patents, and preparation method patents after evading the peripheral patents of the original drug compounds. At the same time, on the one hand, generic drug companies need to monitor competitors, find infringing objects, and promptly file infringement lawsuits against their opponents; on the other hand, they must track the newly disclosed patent applications and newly authorized patents of the original research company and other pharmaceutical companies in real time, and there is infringement. The patent for risk is prepared in advance for invalid application.
All in all, although the first imitation of Hausen Apixaban was successful, the road ahead is still very long and long...